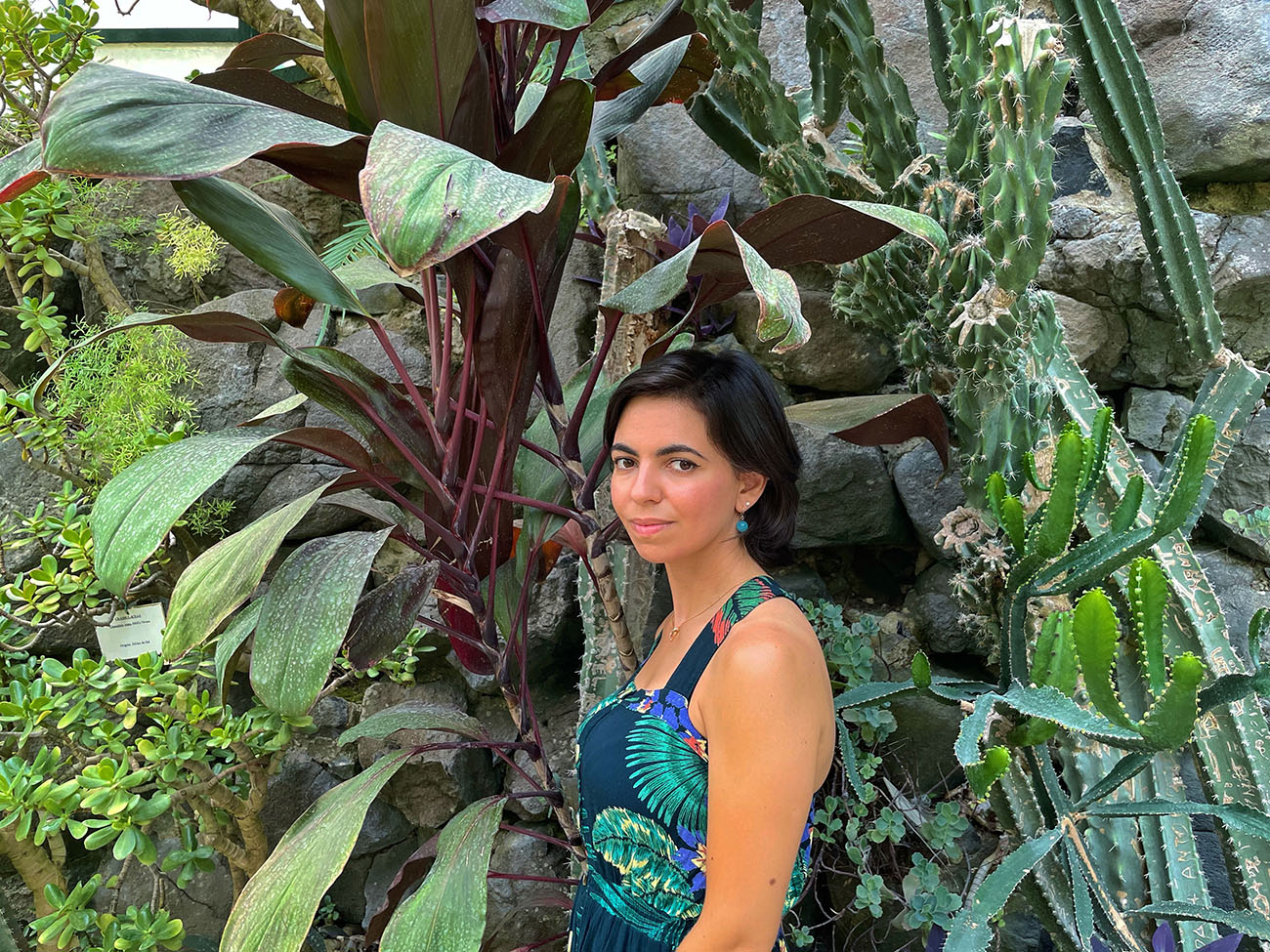 ---
Rafaela Nunes, also known as Nenhures, was born in Lisbon in 1991. She is an artist and researcher currently studying for a PhD in Multimedia Art at the Faculty of Fine Arts of the University of Lisbon. She is a fellow at the Interactive Technologies Institution - LARSyS and eGames Lab in the fields of arts and interactive media, where she develops a practice-based research. She has worked extensively in the artistic field and has a record of various exhibitions, artistic residencies, published artist's books, as well as having worked as an educator in visual arts.
Through her work, she poses a critical view on our relationship with wilderness, presenting artificialised natures using various media like painting, sculpture, installation and digital media. By rethinking and blurring the dichotomies of the natural and the artificial, the real and the fictional, the authentic and the fake, she explores the ambiguity and the plasticity of the boundaries between what we perceive as reality and what we construct as representations of it.
---
EDUCATION
2023 PhD Student in Multimedia Arts, Faculty of Fine Arts, Lisbon — Fellowship at ITI/LARSyS
2017 MFA Painting, Faculty of Fine Arts, Lisbon
2013 BFA Painting, Faculty of Fine Arts, Lisbon
SOLO SHOWS
2021 Astro Turf, Amorpho/Safra, Lisbon
2021 Green Sheen, Espaço Cultural das Mercês, Lisbon
2017 Nowhere, AGEAS Foundation, Lisbon
2017 Suburbia, Galeria da Faculdade de Belas-Artes de Lisboa
2015 Refúgio, Guilherme Cossoul, Lisbon
TALKS & PRESENTATIONS
2023 Current work demo at the inauguration of the Interactive Technologies Institute with the attendance of the Mayor of Lisbon
2023 Pitch and Poster presentation at the Laboratory for Robotics and Engineering Systems (LARSyS) Annual Meeting
2023 "Hybridising painting: constructing virtual spaces from physical paintings with Stable Diffusion" — Presentation of project and paper at Faculdade de Letras da Universidade de Lisboa for the POR-POL NET: Contemporary Net Art Colloquium.
2021 "Art Talks" — Invited speaker for an online interview and public talk through online stream with the curator of Espaço Cultural das Mercês.
2021 and 2020 Invited speaker for an online stream presentation of the artistic work to the students at the Faculty of Fine Arts for the Cross-Medium Painting course (Meios Transversais da Pintura)
2017 "Nave" — Public conference of the artistic residence and project at the Vila Nova da Barquinha's Cultural Centre (Centro Cultural de Vila Nova da Barquinha).
GROUP SHOWS
2021 Ignição II, Rastilho Ignição Cultural, Lisbon
2021 Somewhere between now and then, Lounge, Lisbon
2021 CUTOUT, subsolo.net (online)
2020 Porta Aberta, Safra, Lisbon
2020 A Clue to Reality, Galeria do Campo Pequeno, Lisbon
2020 Quantos Á-Quatro cabem no Á-Quatro, Edifício Á-Quatro, Barreiro
2018 Ensaios sobre a (in)flexibilidade do natural - Parte I, Ministry of the Environment, Lisbon
2017 Bienal de Espinho, Espinho Municipal Museum, Espinho
2017 Suburbia, Faculty of Fine Arts Gallery, Lisbon
2016 Franzina, Roundabout.Lx, Lisbon
2016 1º Prémio CAT 2015/2016, Casa das Artes de Tavira
2016 Contra o Desgosto, Fundação PT, Lisbon
2015 12x12, Atelier Travessa, Lisbon
2015 Exposición de Pensionados en Segovia, Alhóndiga de Segovia, Spain
2015 GA-BA, Faculty of Fine Arts, Lisbon
2015 De onde para onde, School of Economics and Management, Lisbon
2015 Artis 2015, Casino Estoril Art Gallery, Estoril
2014 O Porto e a Península, Galeria Península, Porto Alegre, Brazil
2014 Exposição colectiva, Media Capital, Barcarena
2014 Finalistas Pintura FBAUL 12'13, National Society of Fine Arts, Lisbon
2013 Vinte e Dois, VAÅG Art Gallery, Lisbon
2013 Laboratório de Anatomia - Ver e Pensar o Corpo, University of Lisbon Rectory, Lisbon
2013 XXVI Spring Salon, Casino Estoril Art Gallery
2011 GA-BA, Faculty of Fine Arts, Lisbon
RESIDENCIES
2018 Festival A Salto: Tomada Artística da Cidade de Elvas, Elvas, Portugal
2017 Centro de Estudos de Arte Contemporânea, Vila Nova da Barquinha, Portugal
2015 Palácio de Quintanar, Segovia, Spain
PUBLICATIONS AS AUTHOR
2022 "azul e verde", book co-authored with writer Isabel Milhanas Machado
2020 "Bruma", book of drawings published by Amorpho
2020 "Pé-d'Água", book of drawings published by Amorpho
COLLECTIONS
Lisbon Law School
AGEAS Foundation
---
TEXTS
Ensaios sobre a (in)flexibilidade do Natural
---
This website has been coded from scratch by me. 🤓